Mystole Campsite
We will be open for day visitors from 1st April
and for camping from 1st June subject to government restrictions.
Girlguiding Kent East are very proud to have a wonderful campsite in its County.
Where are we?
Just outside Canterbury in the village of Mystole in our beautiful County of Kent.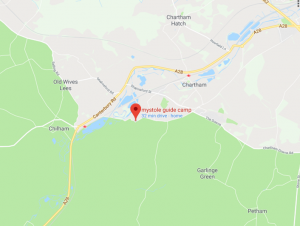 What have we got to offer?
The site is approximately 24 acres in total, with three large camping areas with on site shelters  (two of which have flush toilets, wash stations and electric lighting) all have tables, chairs, blackboards and noticeboards and lots of useful information about the wildlife found around the site.
Follow our Centenary walkway through the large wooded area with footpaths three glades and two campfire circles.
An enormous activity field with climbing frames and areas for games and grass sledding.
The Tardis is home to spare cooking and camping equipment, badge shop,  games equipment and much more.
The campsite is available for :
Weekly camps, overnight camps,  daytime, evening events, group meetings, campfires and acitivity weekends. BBQ's,  and a large activity field for games etc..  Marquees are on site for additional shelter if required.
How do we book the site?
For information about the site facilities contact the Site Chariman, Dave Hermitage or any other Mystole committee members.
Mystole enquiries and bookings: mystolebookings@gmail.com