Awards
'I Stand Out'
New County Award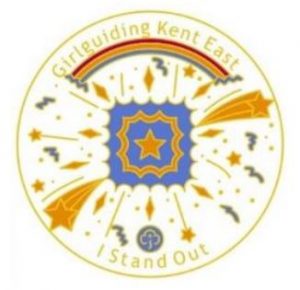 The Kent East 'I Stand Out' Award is an exciting, new Award launching in our County this month. Sitting alongside existing Girlguiding awards and recognitions, this is a unique badge and certificate that can be awarded to any Girlguiding Kent East member (inclusive of all members aged 5 through to adult members) or recognised volunteer, for exceptional or outstanding action.
Criteria for award:
This award is to recognise something exceptional about our members, through Guiding or outside of Guiding, making them 'Stand Out'. It's important that we remember that 'exceptional' may look different for different people and contexts, taking into account the wide age and experience of our membership, but should be considered to be going 'above or beyond' in some way.
For example – leading a residential event is part of what we routinely offer so thanks and recognition could be expressed at a local level for this; stepping in to cover a key role at a late stage, perhaps following a team member's illness or injury, to enable the event to still take place could be considered 'exceptional'.
A young member who has young carer commitments at home might be considered as 'exceptional'.
A member who, over time, (perhaps over a series of separate sessions or residential opportunities) conquers their fear of an adventurous activity and participates successfully may be recognised as 'going beyond' the expected.
It might recognise:
• Acts of courage displayed in coping bravely with illness or other adversity.
• Exceptional contribution to community action through regular involvement in a local project or initiative to positively impact their local area or a local environmental issue.
• Outstanding personal achievement in the arts, music, sports or outdoor pursuits.
Nominations:
• May be made for any member or Recognised Volunteer registered on GO!
• Should be submitted without the knowledge of the nominee or their family.
• Can be submitted by anyone – including Trefoil Guild members, other volunteers and members.
• Are submitted through completion of a simple nomination form, to be made available on the County website and Facebook page as well as through the County team and, periodically, via the County Courier.
• Can be submitted all year round and will be considered at the next available panel session.
• May be submitted electronically or by post.
When completing nomination forms, it will be important to make sure that you're clear about what it is that 'Stands Out' about the person you're nominating to help the panel to make an informed decision.
Awards Panel:
The County's Awards Panel will meet three times per year (usually around February, June and October) in order to discuss the nominations and agree on recipients.
• The Awards Panel will be a decision making panel, comprising a cross section of membership, including young members; it will be chaired by the County Awards Lead Volunteer.
• Membership of the Awards Panel will include the County Commissioner, the Assistant County Commissioner, a Division Commissioner, a Unit Leader or other adult member, a Guide, and a Ranger or Young Leader. Adults will usually serve for three years and young members usually for one year.
• The Panel will make recommendations to the County Executive Committee for the award of the ISO Badge and Certificate based on specific criteria.
• Normally there will be up to 4 awards presented at each panel session though there may be exceptional circumstances when the panel may recommend the presentation of an additional award.
The Award Presentation:
The award will be presented by a member of the County Team, highlighting its status as an exceptional County award. Where appropriate, family and/or friends will be encouraged to attend the presentation and any local celebration of this. Units, Districts or Divisions (as appropriate) are encouraged to celebrate the award in a way that suits the recipient.